GENESIUS 2022 SEASON – SEASON SPONSOR – SWEET STREET DESSERTS
After the HUGE SUCCESS of last year's combined Spotlight Summer Camp and Youth Production of "Footloose," Genesius is going to do it all over again with…
Presenting Schoolhouse Rock Live! Jr.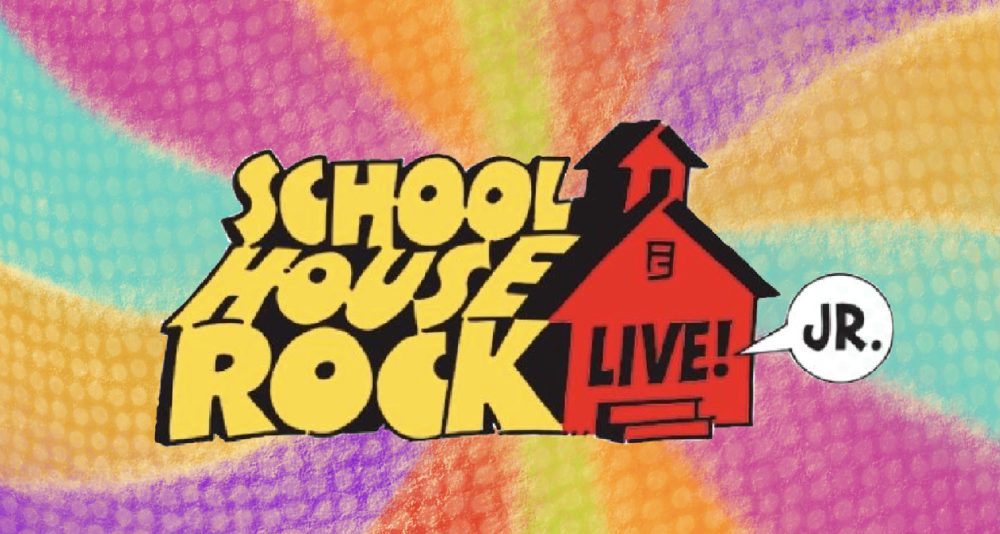 SPOTLIGHT SUMMER CAMP 2022 SPONSORED BY CAROLYN & JERRY HOLLERAN
SUMMER CAMP SIGNUP IS CLOSED! JOIN US TO WATCH THE SHOW!
Ages 6 through 15
4-BIG WEEKS!!!
During the camp we will rehearse and then present the extremely fun musical…
Schoolhouse Rock Live, JR.
Lyrics by Lynn Ahrens, Bob Dorough, Dave Frishberg, Kathy Mandry, George Newall, Tom Yohe Music by Bob Dorough, Dave Frishberg, Kathy Mandry, George Newall, Tom Yohe Book by Lynn Ahrens, Scott Ferguson, Kyle Hall
Based on the ever-popular, award-winning 1970s cartoons, this fast-paced 60-minute musical teaches lessons with clever, catchy tunes. This high-energy musical follows Tom, a young schoolteacher, who is nervous about his first day of teaching. He tries to relax by watching TV, when various characters representing facets of his personality emerge from the set and show him how to win his students over with imagination and music. Memorable songs as "Just a Bill," "Lolly, Lolly, Lolly" and "Conjunction Junction" bring his lesson plans vividly to life.
NighttimeshotCastarmsinair
We are back… IN THE GREAT OUTDOORS under the GRAND PAVILION at THE READING LIEDERKRANZ near Stokesay Castle just off Spook Lane.
July 5 thru 8 | July 11 thru 15 | July 18 thru 22 | July 25 thru 29
SHOW RUNS ONLY 2 NIGHTS! Thursday, July 28 & Friday, July 29 – 7:30 Show Time – Doors Open at 6 pm for drinks and food! Show performed at the Reading Liederkranz CLUB!
(*Show Dates Subject to Change)
ALL CDC COVID-19 SAFE PRACTICES FOLLOWED
*IMPORTANT*
A. YOUR CHILD DOES NOT HAVE TO BE IN SCHOOLHOUSE ROCK LIVE, JR. TO TAKE PART IN THE CAMP.
B. YOUR CHILD ALSO DOES NOT HAVE TO ATTEND ALL 4 WEEKS OF THE CAMP TO BE IN THE ENSEMBLE OF THE SHOW. YOUR CHILD CAN ATTEND ONLY ONE WEEK AND STILL BE IN THE PRODUCTION.
C. THE MORE WEEKS YOUR CHILD ATTENDS, THE MORE PORTIONS OF THE SHOW THEY WILL GET TO TAKE PART IN.
D. ALL AGES FROM 6 TO 15 YEARS OLD ARE WELCOME TO BE IN SCHOOLHOUSE ROCK, BUT ONLY 9 THROUGH 15 YEAR OLDS MAY AUDITION FOR A LEAD/SUPPORTING ROLE.
GUIDELINES FOR AUDITIONING FOR LEAD OR SUPPORTING ROLES
WEEKS OF CAMP YOUR CHILD MUST ATTEND FOR A LEAD OR SUPPORTING ROLE
If your child wants to audition for a LEAD/SUPPORTING ROLE, and receives a role, we prefer they attend ALL FOUR WEEKS of THE CAMP, but THREE WEEKS is acceptable. Any arrangement of the THREE WEEKS is possible, however it's MANDATORY they attend THE FINAL WEEK (Tech/Dress Rehearsals – July 25, through 29) of the camp to have a leading or supporting role.
3 WEEK ATTENDANCE EXAMPLES
They can attend…
A. WEEK # 1, WEEK # 2 – TAKE OFF – WEEK # 3 – come back for WEEK #4
B. WEEK #1, – TAKE OFF – WEEK # 2 – come back for WEEK #3 & WEEK #4
C. TAKE OFF – WEEK # 1 – start WEEK #2, WEEK #3 & WEEK #4.
D. OR ATTEND ALL 4 WEEKS
PLUS PERFORMANCES – July 28, 29 – 7:30 PM Performances at Reading Liederkrantz Club
(May add additional performances that weekend. Show dates may need to change to July 29 & 31)
***IMPORTANT
A. If you receive a LEAD or SUPPORTING role, please note that you may have additional evening or weekend rehearsals.
B. If you have a role or are in the ensemble of SCHOOLHOUSE ROCK LIVE, JR. you are required to be at DRESS/TECH REHEARSALS on the Wednesday/Thursday before the PERFORMANCES. You will be needed during the day at the camp and in the evening.
C. If you only paid for one or two weeks of camp you don't have to pay for the final two days of Dress/Tech Camp Rehearsal unless you are attending that final week of camp.
D. YOU MUST BE AT ALL PERFORMANCES
Camp Activities
In addition to presenting the youth version of "SCHOOLHOUSE ROCK LIVE, JR." we will still do all the fun things we have done at camp for the past several seasons!
Your campers will be off on a "Great Adventure" when they take part in this fantastical theater camp specifically designed for young actors. Their big imaginations will run rampant as this program features a mix of creative and fun activities ranging from movement, singing, visual arts, & theater games. Each camper gets a "Larger-Than-Life" theatrical opportunity while learning the fundamentals of stagecraft – 101 – No Experience Necessary – Just a willingness to have FUNNNNNNNNN !!!
HOW IT WORKS…
We will run the CAMP for 4 Full Weeks – Monday through Friday – 10 AM to 3 PM (Except for week #1 – July 5, 6, 7, & 8 – Due to the July 4th holiday only 4 days, but extended times on those days from 9:30 AM to 3:30 PM). Through the week we play theater games and learn basic acting fundamentals. We will also rehearse the youth version of SCHOOLHOUSE ROCK LIVE, JR. to be performed the final weekend of the camp. This will be a ticketed event. Even if you are unable to take part in the full production you will still get to learn some of the songs and choreography we will be doing for the show.
We will continue to also present the WEEKLY FREE CABARET SHOW for family and friends on Friday's at 1:00 PM, EXCEPT for the 4th and final week of the camp, which is the SHOW WEEKEND.
CAMP STAFF…
Camp Director, Becka Malanios, & Genesius Artistic Director, Larry Fecho, along with the TEEN INTERN STAFF, will be back once again creating the fun at the camp. IT WILL BE A BLAST!
The excellent creative team of Becka Malanios (director), Jennifer Parker Scott (music director), and Jericho Joy (choreographer) are back to present and produce the Schoolhouse Rock Live, JR in tandem with the Camp Staff!
CAMP WEEKS AND PRICING OPTIONS
With all Camp Options every camper is welcome to be in the Schoolhouse Rock Live, Jr. Production. However, depending on how many weeks you attend the camp, and your age, determines if you can audition for a lead or supporting role in Schoolhouse Rock Live, Jr. The camp runs Monday thru Friday from 10 AM to 3 PM starting…
WEEK #1 – July 5 thru 8 (4 days only – extended times 9:30 AM to 3:30 PM this week ONLY!)
WEEK #2 – July 11 thru 15
WEEK #3 -July 18 thru 22
WEEK #4 – July 25 thru 29
THERE ARE DISCOUNTS for multiple weeks in attendance and multiple siblings in attendance.
SIBLING DISCOUNT – If you have multiple children attending the camp take 10% off the prices shown above per child. ***The discount is only valid and available when siblings are at the camp the same week(s)
| | | | |
| --- | --- | --- | --- |
| Weeks | One Child | Two Children | Three Children |
| ATTEND 1 WEEK | $165.00 | $297.00 | $445.00 |
| ATTEND 2 WEEKS | $297.00 | $486.00 | $802.00 |
| ATTEND 3 WEEKS | $445.50 | $802.00 | $1,203.00 |
| ATTEND 4 WEEKS | $594.00 | $1,070.00 | $1,604.00 |
There are NO REFUNDS.
Money Tight??? – GENESIUS may be able to offer a half, and or full, camp scholarship to families in need. More information on this in the future. (***This program is subject to sponsorship support or grants.)
TICKETS
WEEKLY FRIDAY CABARET SHOW – FREE TO FAMILY & FRIENDS!
TICKET FOR "GETTING TO KNOW Schoolhouse Rock Live, Jr."
$20 – Adults/Seniors/Military/Students
$13 – 13 years of age and younger
***Tickets will be available for purchase on the Genesius website sometime this summer!
SCHOOLHOUSE ROCK LIVE, JR. – TWO PERFORMANCES – July 28 & 29 Friday, Saturday at 7:30 PM at the Reading Liederkrantz Club. (Performances that weekend might be added and performance dates may change to July 29 and 31.)
FAQ
Will there be a health check in the morning before being allowed at camp? Temperature taken, etc?
The Genesius Camp Staff will take a forehead temperature reading every morning at sign-in. Camp Staff will also ask pertinent Covid health related questions. We emphasize if your child is feeling ill, in any form, they should stay home.
Will masks be worn at the camp?
Currently, the answer is YES! Camp staff and campers will wear masks. As restrictions are loosened, and or tightened, we will then decide what protocols to follow. Ideally, we would not like to have masks on the campers when they perform, but that again, depends on where we are with the pandemic by July 2022.
Will there be hand sanitizers and hand washing facilities available?
YES!!!
Will the area be kept clean and sanitized?
Tables, props and surfaces will be cleaned regularly. The Reading Liederkranz will also have restrooms cleaned and sanitized.
Is lunch or snacks provided?
Lunch, snacks, drinks ARE NOT provided. You will need to provide for your child.
How and when is payment due?
Payment is due in advance for each week of camp. You can either pay in full for all weeks or break it up over the four weeks depending on your child's attendance at the camp. You can pay cash, check, or credit card (on our website – credit card fees apply) WE PREFER THE FIRST PAYMENT TO BE MADE WHEN YOU FILL OUT THE ONLINE SUMMER CAMP FORM.
If you require additional information please email Larry Fecho at LJFecho@FechoProductions.com